HC-7 Series Immesion Sensors
HC-7 series pH/ORP Immersion Electrodes / Holders, Industrial Process pH and ORP Meters
General Information
The DKK-TOA Industrial process control pH and ORP analyzers and transmitters are available from Analyticon with many options and configurations to suit an entire range of applications. As a leader in analytical sensor technology, many years of expertise and innovation have been incorporated into the finest process control equipment in the world.
Every process monitoring environment will have unique requirements including sensor configuration of the electrode, including submersable flow thru type cells, system pressure and voltage requirements, indoor/outdoor applications, data logging requirements, and electrode maintenance issues.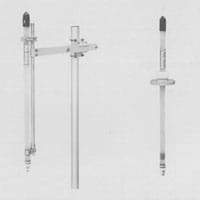 ---
Immersion Electrodes, Holders and Mounting options
The HC-7 Immersion type sensors are suitable for measurement of water in open waterways or an open tank. These sensors consist of an electrode assembled together with an electrode holder of differing lengths, materials, electrode types for pH or ORP, temperature, etc., and suitable for a particular application matrix. For Flow thru type applications, please refer to the HC-8 series electrodes and holders.
Electrodes in this series are basically classified into two types. Those with a KCl supply and those without the need for a KCl supply.
KCL Supply type electrode holders and sensors
These immersion sensors are the most common and easiest to use electrode systems. They electrode holder serves as an electrolyte tank which can hold a significant volume of KCl electrolyte solution. There are many types of materials used for the wetted parts and many applicable electrodes available depending upon the particular application. Systems are available for applications including wastewater treatment facilities to industrial processing plants under harsh measuring conditions.
Electrode systems are also available for pressurized systems and sensors capable of pressurizing the KCL supply to the electrode to maintain very stable reference potentials over long periods of time with minimal maintenance for highy stable and reliable measurements.
Standard Holder Specifications
Specification
Description
Construction
Sprayproof construction of Semi clear PP(polypropylene), PVC(Polyvinyl chloride), PVDF(polyvinylidene fluoride resin), semiclear PFA(Fluororesin)
Sample Conditions
Pressure: Atmospheric
flow speed : 2m/s or less
Electrolyte capacity
Approx. 600 mls with a 1m long holder
Mounting
Bracket system: ZCD-1 or ZC-1 plus ZN-7 or ZC-2
Flange System: ZFL-1 or ZFL-2
Classification
type Pressurized and non-pressurized KCL electrolyte supply
KCL Supply type Electrodes
The latest electrodes, employing a glass membrane of an excellent linearity to supress AgCl exudation from the liquid junction of the reference electrode (the non-leak AgCl inner electrode).
These electrodes are capable of performing stable and continuous measurement under various conditions such as high temperature, low concentration, reducing agent based solutions, etc. The HF (Hydrofluoric acid) resistant type glass membrane and that for organic solvent resistant glass using perfluoro (fluoro-rubber) are available as an option. The 10KOhm temperature compensation electrode further improves the response of the temperature measurement.
KCL No Supply (NOS) type electrode sensors and holders
The KCL no supply type pH/ORP electrode seals in the KCl electrolyte at the teflon junction and eliminates the need to replenish the electrolyte solution. In addition, this type of electrode is also immune to external pressure. the immersion holders combined with the NOS type electrode is very convenient for drop in or submerged use. (Possible down to 50 meters). The limitations are such that it is not for use above 50C, low ion concentration water, heavily contaminated water (mixed with oils, etc), and mounting on tightly sealed tanks under sub atmospheric pressure.
There are two types of NOS electrodes available. The leadless tpe and the lead type. the leadless type includes a preamplifier and replaceable battery. It converts the output inpedance and provides an output signal compensated at the temperature of 25C by the 2 wire system, thus providing a noise resistant feature.
Standard Specifications
Specification
Description
Construction
PP(polypropylene) and Stainless Steel
Wetted parts material
Epoxy resin, Fluororesin
Sample Conditions
Pressure: 0-0.5MPa
flow speed : 2m/s or less
Inner electrode
Ag/AgCl
Replaceable tip electrodes with replaceable reference junctions are also available.
An antimony pH sensing ring electrode with continuous cleaning is available for pH measurements of hydrofluoric acid solutions which are difficult to measure with a conventional glass membrane or for high viscous solutions. (refer to the AHB-31)
For detailed information of available electrodes, holder types, extension cables, junction boxes and configurations, etc,. please see technical HC-7 spec sheet (PDF)
Specifications and availablility subject to change without notice.