Auto Buret / Dispenser
The Auto Buret / Dispenser is a micro-processor controlled unit which will perform automatic dispensing and dosing routines, manual titrations, and dilutions. The instrument includes an LCD display for easy operation.
It is used as our dispensing burette with the AUT-701 Titration system which can control up to 9 ABT-511's.
Features
1, 5, 10, 20, and 50 ml buret sizes.
High Accuracy dispensing ranging from 0.00005mls(1 or 5 ml syringe) to 999.9975 mls (50 ml syringe).
Fixed rate dispensing from 0.001 ml/minute to 150 ml/minute.
Sampling and dilution mode.
GLP compatible for volume compensation based on temperature as buret with other devices including titrator, samplers, etc.
Full RS-232 Control for PC connection
Analog Output with alarms.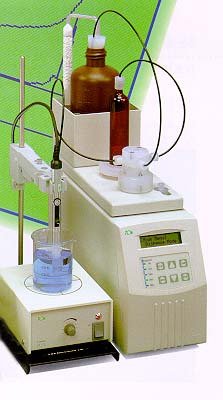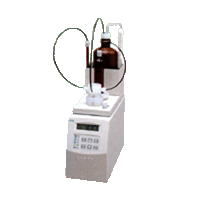 ---
Main Unit
| | |
| --- | --- |
| ABT-511-0-3 | Automatic Buret complete with 20 ml burette, defoaming nozzle and standard accessories. (ST-15 stirrer not included) |
---
Main Buret Unit Options:
| | |
| --- | --- |
| ST-15 | Magnetic Strirrer |
| P000005 | 50 ml Clear Buret unit Syringe w/piston |
| AUT-041P | 20 ml Clear Buret unit Syringe w/piston |
| AUT-042P | 10 ml Clear Buret unit Syringe w/piston |
| AUT-043P | 5 ml Clear Buret unit Syringe w/piston |
| AUT-044P | 1 ml Clear Buret unit Syringe w/piston |
| P000010 | 50 ml Brown Buret unit Syringe w/piston |
| AUT-045P | 20 ml Brown Buret unit Syringe w/piston |
| AUT-045P | 10 ml Brown Buret unit Syringe w/piston |
| AUT-047P | 5 ml Brown Buret unit Syringe w/piston |
| AUT-048P | 1 ml Brown Buret unit Syringe w/piston |
| P000068 | Buret unit Stand for 1-20ml syringe,complete (w/o syringe) |
| P000069 | Buret unit Stand for 50ml syringe,complete (w/o syringe) |
| AUT-021P | Teflon Buret Tubing, white, for 5-20ml syringe(2 meters) |
| AUT-022P | Teflon Buret Tubing, brown, for 5-20ml syringe(2 meters) |
| AUT-023P | Teflon Buret Tubing, white, for 1ml syringe(2 meters) |
| AUT-024P | Teflon Buret Tubing, brown, for 1ml syringe(2 meters) |
| AUT-051P | Dispensing Nozzle, Clear glass, for 1 to 20ml syringe |
| AUT-052P | Dispensing Nozzle, Brown glass, for 1 to 20ml syringe |
| P00036 | Dispensing Nozzle, Clear glass, for 50ml syringe |
| P00037 | Dispensing Nozzle, Brown glass, for 50ml syringe |
| P000007 | Defoaming Nozzle for 1-20ml syringe |
| P000071 | Defoaming Nozzle for 50ml syringe |
| AUT-089P | Nozzle for Trace Volume titration |
| AUT-001P | Soda Lime Tube w/Stopper |
| AUT-011P | Polypropylene reagent bottle, 500ml, White |
| AUT-013P | Polypropylene reagent bottle, 500ml, Brown |
| AUT-061P | Teflon nuts for 3 way buret valve |
| AUT-062P | Teflon nuts for syringe |
| AUT-063P | Teflon ferrules for buret tubing |
| AUT-065P | Plastic nozzle holder |
| 3-707578-1K | ABT-511 to ABT-7 Connector Cable (part code: 7075780K) |
| AUT-031P | ABT-511 to APB-511 Connector Cable |