Salt Analyzer
Fast and accurate salt / chloride measurement using the Coulometric Titration Technique
The SAT-500 salt / chloride analyzer is designed to measure the concentration of salt and chloride ions quickly and easily in all types of products and where low level chloride measurement is required. It is an extremely helpful tool in the busy QA/QC lab or where high accuracy and quick analysis time is required.
Features
Typical measurement time is under 30 seconds.
Extremely accurate.
Absolute method. No silver nitrate reagent is used. titrant standardization is not necessary.
Simply dispense the sample with a pipette into the measuring cell. Measurement begins automatically.
Built in printer
Direct concentration displayed on instrument display.
Data memory for 300 results
Optional PC software is available for spreadsheet data control/archive
Dilution ration and sample size are settable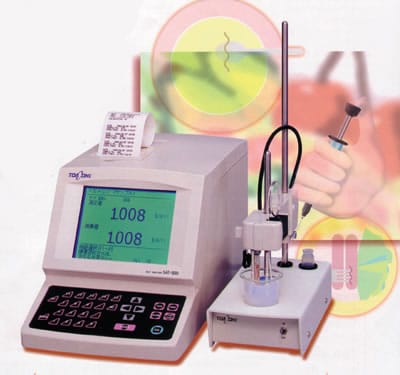 ---
Measuring Principle:
The SAT-500 is a dedicated coulometric titrator for chloride. Silver is stripped from the cathode, a pure silver wire, via an electrical current. By incorporating Coulombs law, very low levels of silver can be generated which in turn complex with the chloride in solution from the sample. The solution potential is monitored with a silver wire and reference electrode sensing system to determine the end point of the reaction, the point at which all the chloride ions have complexed with silver, forming a silver chloride precipitate.
The instrument calculates the concentration and the results are automatically displayed and printed out in %(w/v), %(w/w), mg/l, or mol/l as NaCl or Cl (selectable).
---
Specifications
Measuring Range and resolution
2ul pipette: 0.01 - 49.99% (+/- 0.01%)
20ul pipette: 0.001 to 4.999% (+/- 0.001%)
200ul pipette: 0.0001 to 0.4999% (+/- 0.0001%)
Other: 0.000 to 99.99% (depends on calibration solution concentration)
Lower limit
0.02% at 200ul sample
0.2% at 20 ul sample
2.0% at 2ul sample
Repeatability
less than 0.5% in c.v. value at 1% of NaCl standard solution with 20ul pipette
Calculation constant
Possible to set dilution ratio, constants, ec.
Calibration
Automatic single point calibration using standard NaCl solution
Measurement Start
Automatic start on detection of potential change or manual start using key
Printer
Built in thermal printer
Data Memory
300 data points (with backup)
Outputs
RS-232C (for PC or Ext. Printer)
Output 1 (for auto injector)
Output 2 (for Sample Changer)
Power source
AC line, 100-240V, 50/60 Hz
Power Consumption
Approx. 20VA (Max)
Dimensions (mm)
Main: 190(w) x 192(h) x 385(d)
Measuring section: 110(w) x 370(h) x 220 (d)
Weight
Main: 3.3Kg, Meas. section: 1.1Kg
---
Main Unit
| | |
| --- | --- |
| SAT-500-0-2-B-0-B | Salt analyzer complete with standard accessories |
---
Standard Accessories for the SAT-500
| | | |
| --- | --- | --- |
| Part Number | Description | |
| AG-111 | Silver Electrode | (2 pcs.) |
| SAT-AG | Silver wire for electrolysis | (1 pce.) |
| ELR-003 | Reference Electrode | (1 pce.) |
| 6784580K | reference junctions | (2 pcs) |
| SAT-1F1 | Electrolyte | 500 mls. |
| SAT-1G1 | Addition Reagent, Gelatin | 50 mls. |
| SAT-1Z1 | Polishing compound | 50 mls. |
| SAT-1E1 | Reference electrode filling solution (potassium sulfate) | 100 mls. |
| SAT-B20 | measuring cell, 20 ml capacity | (2 pcs.) |
| SAT-SB | Stirrer | 1 unit |
| SAT-1A1 | 10% NaCl standard Solution (for 2ul syringe) | 100 mls. |
| SAT-1A2 | 1% NaCl standard Solution (for 20ul syringe | 100 mls. |
| SAT-SB | Stir Bar (5 x 17mm) | (2 pcs.) |
| PAP-HCS | Thermal Printer Paper | 5 rolls/pack |
| HEX-ACL3 | power cord | |
| SAT-INST | Instruction Manual | 1 copy |
---
Micro dispenser selection
| | | | |
| --- | --- | --- | --- |
| Part Number | Description | Measuring Range | Recommended Std solution |
| AIC-MM-10 | Absolute pipette, setable from 1-10ul | | SAT-1A1 (10% NaCl) |
| AIC-MM-50 | Absolute pipette, setable from 20-50ul | Most recommended | SAT-1A2 (1% NaCl) |
| AIC-MM-250 | Absolute pipette, setable from 50-250ul | | |
| AIC-CP-10 | Capillary pistons, for MM-10 | | |
| AIC-CP-50 | Capillary pistons, for MM-50 | | |
| AIC-TC-376 | Capillary pistons, for MM-250 | | |
| | | | |
| OSZ00018 | 2ul Micro glass pipette dispenser | 0.00 - 49.99% | SAT-1A1 (10% NaCl) |
| OSZ00021 | 20ul Micro glass pipette dispenser | 0.000 - 4.999% | SAT-1A2 (1% NaCl) |
| OSZ00024 | 200ul Micro glass pipette dispenser | 0.0000 - 0.4999% | by dilution of std solution |
| OSZ00019 | capillary for 2ul dispenser, glass | | 100pcs/box |
| OSZ00020 | Replacement parts kit, 2ul | | kit |
| OSZ00022 | capillary for 20ul dispenser, glass | | 100pcs/box |
| OSZ00023 | Replacement parts kit, 20ul | | kit |
| OSZ00025 | capillary for 200ul dispenser, glass | | 100pcs/box |
| OSZ00026 | Replacement parts kit, 200ul | | kit |
---
Options selection
| | |
| --- | --- |
| Part Number | Description |
| EPS-G -0 | External Printer Unit |
| OGC00003 | Cable for EPS-G external printer |
| P000119 | Paper for EPS-G external printer |
| ORD00001 | Ink Ribbon cartridge for External printer unit |
| G-LOG-2 | Data Logging software |
| OGC00002 | RS-232 Cable, 2m |