Ion Meter (Dual with pH)
Single and dual channel meters for pH, ORP, Conductivity, Dissolved Oxygen and Specific ion measurement.
The P-30 series portable handheld line of meters are widely used for water quality measurement and field measurement work. The line of meters includes a pH meter, ORP meter, Conductivity meter, Dissolved Oxygen Meter, an ion meter and dual combination meters.
IM-32P Specific ion/pH Meter
Dual Ion/pH Meter Features:
Simultaneous pH and ion measurement
1000 point data memory x 2 channel
LCD display for all parameters
Data print-out capability
Automatic Time interval Measurement
Water proof housing
Data hold function and auto power off
Rugged probe design for field measurement
Ion Meter Standard Accessories
pH Sensor (GST-2729C w/calib memory, 1m)
pH Std 4.01 and 6.86 buffers, 100 mls.
3.3m KCl, 50 ml x 3
Operation manual
Battery (2x "AA")
Ion Meter Optional Accessories
Ion Electrodes sold separately
Thermal Printer Unit
AC adapter
Carrying Case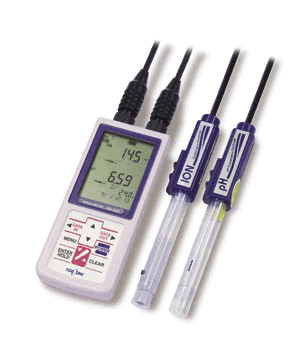 ---
Ion Meter Specifications
| | |
| --- | --- |
| Display | LCD Digital Display |
| Measuring Range | Ion: Depending upon sensor. See brochure, pH 0.00-14.00, ORP: 0-+/-2000 |
| Resolution | pH: 0.02, Temp: 0.2 C. |
| Repeatability (main unit) | pH: +/-0.02pH, +/-1mv, +/-1%rgd+/- 1 digit, +/-0.2C |
| Temp. Compensation | Automatic/manual |
| Calibration | pH/Ion up to 3 points |
| Data Memory | 1000 Points x 2 channel |
| Temp of Sample | 0 to 50 C. |
---
General P Series Options and Accessories:
| | |
| --- | --- |
| EPS-P30 | External Printer unit w/cable, 60mm wide |
| P000119 | Printer paper, 20 rolls/pack. |
| ORD00001 | Ink Ribbon for Printer, 1 pc/pk. |
| 118N062 | RS-232 Cable, 2m. |
| OAA00001 | AC adapter |
| G-LOG2 | Data Acquisition software. |
| 118N063 | Analog output cable.1.5m (For recorder) |
| 6948810K | Electrode stand. (With column and stopper) |
| OIB00001 | Electrode Holder. (Except DO sensor) |
| OIB00007 | Electrode Attachment piece (DP) for all P-30 sensors except DO |
| OIB00009 | Stick holder, 5 meter or more rigid holder |
| OIB000010 | Twin stick holder, 5 meter or more rigid holder |
| ST-15 | Magnetic Stirrer, AC |
| ST-1A | Magnetic Stirrer, DC |
| SC-10P | Soft Carrying Case |
| ODA00001 | Storage Case for storage and carry of main unit, sensor, and other accessories. |