Ozone Meter, handheld, 0-2mg/l
The OZ-21P Ozone Meter, handheld, 0-2mg/l provides an instant measurement of dissolved ozone in potable water by the use of a polarographic sensor.
This unit is similar in technical operation to the Residual Chlorine Meter, Low range, 0-2ppm.
A unique beads polishing system incorporated at the electrode system maintains the electrode in good working condition, free of interferences at the gold microelectrode, and ensures stable measurement.
The meter also indicates the sample temperature and includes a built-in-clock. The instrument can store one set of results (measurement, temperature and time) in memory for later retrieval. Power is provided by two standard AA batteries which have an operating life of up to 50 hours.
Features
Reagent Free, low operating cost
Simple measurement by pressing start button after immersion
Auto hold function is available
0-2mg/l measuring range
Stable measurement by polarograph method using beads polishing system
Data storage memory for 300 sample results
External printer option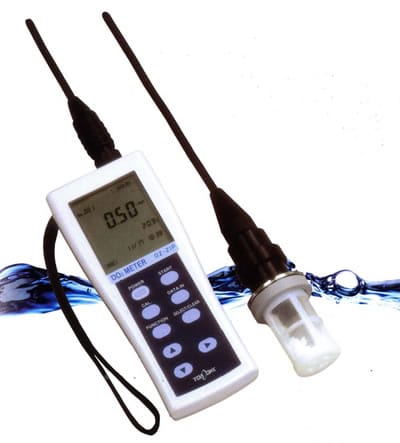 ---
Specifications
Model
OZ-21P
Sensor
OZ-221A
Measuring Method
Polarographic method
Indication
digital display, Ozone concentration, temp., and time simultaneous
Sample Water
Ozonated water, City water or well water. Used or dirty disinfection wash water not measurable.
Range:
Dissolved Ozone : 0-2.0 mg/L(ppm), lower detection limit is 0.05mg/L
water Temperature: 5 to 40 degrees C.
Repeatability
Auto Hold Mode 1: Diss. Ozone: +/-5% F.S.(+/- 0.1 mg/L) or less. Temp: +/-0.5C
Auto Hold Mode 2: Diss. Ozone: +/-10% F.S.(+/- 0.2 mg/L) or less. Temp: +/-1.0C
Response time
Auto Hold Mode 1: Shorter than 1 min, 30 seconds at 25C
Auto Hold Mode 2: Shorter than 1 min at 25C
Water Conditions
pH 5.5to 8.5, Electric Conductivity 10-200 S/m(100uS-2mS/cm), 100-200ml/min flow, stable
Interferences
Oxidation/Reducing Substances
Temp. Compensation
Automatic (0-40 C)
Calibration
zero/span or by coefficient input method/correlation to colorimetric or alternate technique
Material
Main Unit: ABS
Sensor: PVC, Gold, Silver, Epoxy resin, ABS, silicon, Polyethelyne, Stainless steel Alumina
Sensor Cable
1M standard. Optional 3m cable available
RS-232 C Output
Printer output, RS-232C Standard
Water Proof construction
IP67 type, JIS C920 protection class 7
Power Source
2x AA cells or AC adapter(option)
Dimensions / weight
Main Body: 75mm(W) x 187(H) x 37(D)
Approx. 305g, sensor 180g
---
Main Unit Information for OZ-21P
| | |
| --- | --- |
| OZ-21P | Ozone Meter, handheld, 0-2mg/l with std accessories |
| | Portable meter complete with digital LCD display. Standard Cell includes Electrode OZ-221AA ). Meter complete with sensor, measuring container, beads polishing kit, hand strap, vinyl case, instruction manual and batteries. |
---
Standard Accessories
| | | |
| --- | --- | --- |
| OZ-221-AA | Ozone sensor, 1 meter cable. | 1 pce |
| 136C300 | Measuring cell | 1 pce |
| 01Z00005 | Beads Polishing Kit | 1 pce |
| OLZ00001 | Cathode Polishing Paper | 1 pce |
| OTZ00006 | Hand Strap | 1 pce |
| OOZ00001 | Exclusive driver | 1 pce |
| OTZ00005 | Vinyl Case | 1 pce |
| Batteries | LR6, AA | 2 pcs |
| Manual | Instruction manual | 1 pce |
| Reference Sheet | Quick reference manual | 1 pce |
---
Options for OZ-21P
| | |
| --- | --- |
| OZ-221-AA(3) | Ozone Electrode, 3 meter cable. |
| 6787400K | Beads Polishing Kit, SUS |
| 6795740K | Maintenance Kit |
| EPS-G | External Printer |
| P0000119 | Printer Chart roll paper |
| ORD00001 | Ink Ribbon for printer |
| 134G585 | AC adapter and cable |
| OGC00006 | RS-232C interface cable, 2m |
| 137C401 | Carrying case |
| ODA00001 | Storage Case |
| 6787140K | Soft Case |
| 6787410K | Stick holder, Extension rod holder for sensor |
---
Consumables for the OZ-21P
| | |
| --- | --- |
| OZ-221AA | DO sensor, 1m |
| OIZ00005 | Bead Polishing Kit |
| 123G007 | Ceramin Beads |