Electromagnetic Conductivity/Conc. Meter
The MDM-25A is a Portable electromagnetic conductivity/concentration meter and can be a field operated Instrument for measuring conductivity in applications where typical conductivity cells cannot be used due to the sample conditions.
Highly acidic or Alkaline solutions can be easily measured with the sensor constructed of PVC or PFA. The Principle of the sensor uses electromagnetic induction and can measure high concentration values.
The unit is capable of measuring conductivity at depths of up to 10 meters. The LCD display shows all appropriate parameters, has minimal maintenance and does not require daily calibration.
Features
Direct Sample Measurement, Continuous
Moisture proof unit
Conductivity or Concentration by electromagnetic induction
Rugged compact sensor with standard 3 meter cable.
Slim Design Sensor (30mm) with ability to measure at depths of 100 meters.
Data Memory for 100 samples.
Coefficient compensation function for data.
100 hours of use time with batteries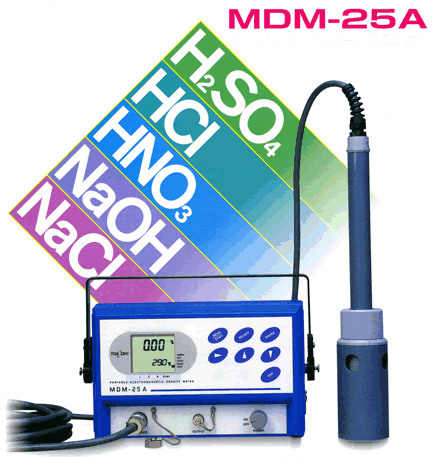 ---
Specifications
Measuring Method
Electromagnetic Conductivity/Concentration by induction
Indication
LCD Display, 4 digit
Units: S/m (uS/m, mS/m), S/cm (uS/cm)
Range:
Conductivity: 0 to 200 S/m @ 25C, (0 to2000mS/cm)
Temperature: -5.0C to 120 degrees C.
Display
Auto 5 ranges or manual
0.0-20.00mS/m, 0.0-200.0mS/m, 0.000-2.000S/m, 0.00-20.00 S/m, 0.0 -200.0S/m
Conc. Display: H2SO4:0.00-30.00, 40-80, 93-99.5%
Resolution
Conductivity: Depends on scale, +/- 1 digit
Temperature: 0.1 C
Analog Output (Factory Opt.)
Conductivity: 0 to 200 mV F.S.
Temperature: 0 to 1V F.S. (Simultaneous)
Power Source
6x "C" cells or AC adapter (option)
Dimensions / weight
Main Body: 250mm(W) x 160(H) x 95(D)
Approx.: 2.3 Kgs
Sensor: 60mm(diam)
Approx. 3kg
---
Ordering Information FOR MDM-25A
| | |
| --- | --- |
| MDM-25A-0-1-E | Portable Electromagnetic Conductivity/Concentration Meter, PVC, 3m cable |
| | Portable meter with digital LCD display which measures Conductivity. Unit comes complete with sensor (3m cable), shoulder belt, manual and batteries. |
---
Accessories and Consumables for MDM-25A
| | |
| --- | --- |
| sensor-25A | Sensor with 3m cable. ( 25A03, Standard with main unit) |
| Sensor-25A5 | Sensor with 5m cable |
| Sensor-25A10 | Sensor with 10m cable |
| DO-SB | Shoulder belt. |
| YD-12 | AC adapter. (230VAC or 115AC, Specify) |