Portable Turbidity Meter
Ideal for turbidity measurement of industrial wastewater, construction wastewater, and environmental water such as river and lake water.
The TB-31 Portable Turbidity Meter features high reliability in low concentration regions, power saving design (120 hour continuous measurement with only two AA alkaline batteries), and waterproof construction for field measurement (IP67: The unit can be submerged at 1m depth for up to 30 min). Its immersion-type sensor is perfect for simple turbidity measurements in the field.
Features
High accuracy in low concentration regions.
Repeatability of ± 0.5 NTU in low measurement ranges.
Power saving design
Requires only two AA alkaline batteries for approximately 120 hours of continuous measurements.
Immersion measurement for one day monitoring (continuous measurement)
Directly immersing the sensor into sample water makes it possible to monitor turbidity for one day (24 hours or less).
*1 This sensor is not equipped with a cleaning function. Depending on the water quality or service conditions, it may not be possible to measure continuously for up to 120 hours. Please contact us for details.
*2 Maximum water depth is 10 m.
1,000 data memory function
Auto-save for specified intervals*
*Short interval memory function: 1 sec. to 99 min. 59 sec. Long interval memory function: 2 min. to 99 hrs. 59 min. (When using the long interval memory function, the power turns off(enters sleep mode)after measuring turbidity for 1 minute. It remains off until the next measurement starts.)
Great extensibility (Ability to connect the meter to a personal computer, an external printer and a recorder)
We provide optional special data acquisition software for loading measurement data in text format on a personal computer.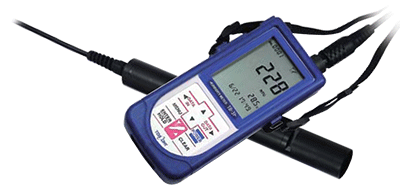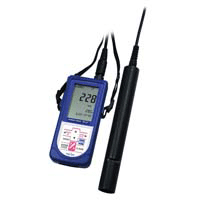 ---
Specifications
Model
TB-31
Measurement method
Near infrared 90 degree light scattering measurements
Measurement range: Turbidity*1
0.0 to 80.0 NTU (mg/L)
0 to 800 NTU (mg/L)
Range selection: Automatic/ Manual
Measurement range: Temperature
0 to 50.0°C
Display range: Turbidity
0.0 to 88.0 NTU (mg/L) 0.0 to 880 NTU (mg/L)
Display ranger: Temperature
-5.0 to 110.0°C
Repeatability: Turbidity
±0.5 NTU or less(0.0 to 80.0 NTU range) ±5 NTU or less(0 to 800 NTU range) Measurement conducted using a formazine standard solution under fixed conditions
Repeatability: Temperature
±0.5°C or less
Water depth
Up to 50 m(equal to 0.5 MPa)
External output port*2
RS-232C (non-isolated): Personal computer or external printer EPS-P30 (optional)
Analog output port (non-insulated): Three output ports for turbidity, temperature, and range
Waterproof construction (main body)
IP67 (enabled when the sensor is connected and the external I/O ports are masked)
* The unit can be submerged at a depth of 1 m for up to 30 min.
Ambient temperature / humidity
0 to 45°C , no more than 90%(no condensation)
Power source
Two AA alkaline batteries/nickel hydrogen batteries
Dedicated AC adapter (6 VA, optional) also available
Power consumption (3V battery)
Approximately 0.05 W
External dimensions
Main body: Approx. 68 mm (W) x 35 mm (H) x 173 mm (D)
Sensor: φ Approx. 30 mm x 240 mm
Weight
Main body: Approx. 280 g (includes batteries)
Sensor (cable length 2 m): Approx. 400 g
---
Standard Accessories
Turbidity sensor ELL-011 (cable length: 2 m) (only included with the full set) Protection cover (with shoulder belt), size AA alkaline battery (test use) (2) Instruction manual
---
Optional sensor
When you order the optional sensor, select"main body only"for TB-31.
| Product / Model | Cable length |
| --- | --- |
| Turbidity sensor ELL-011 | 11m |
| Turbidity sensor ELL-011 | 30m |
| Turbidity sensor ELL-011 | 50m |
---
Other Optional Parts
| Product | Model / Code No. |
| --- | --- |
| External printer (with connection cable) | EPS-P30 |
| Analog output cable (1.5 m) | 118N063 |
| Data acquisition software | GP-LOG |
| RS-232C connection cable (2 m) | 118N062 |
| AC adapter | ─ |